THIS WEEK AT THE ALBRECHT-KEMPER MUSEUM OF ART
10/22/2018 through 10/28/2018
Sugarplum Pre-Sell Tickets Go On Sale Monday, October 22, 2018
Tickets available for $6 at:

Downtown Convention and Visitors Bureau

East Hills Mall at Guest Services

St. Joseph Hy-Vee

Mosaic Life Care at the Spa Desk
The shopping extravaganza of the year is November 8-10, 2018.
For more info click on the video below
or visit our website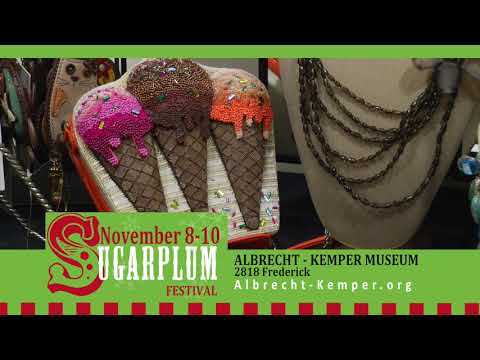 Kids Media Mix-Up
Project for Tuesday, October 23rd 4:30 pm to 6:00 pm 
 This week, the kids are going to make Holiday Greeting Cards sets that will be available for purchase during our annual Sugarplum Festival (November 8-10) at the Deck the Halls Silent Auction. Sugarplum is one of the museum's biggest fundraisers of the year. See the front desk for more details when you drop off your child at this week's Kids Media Mix-up.
A perfect after-school class for children ages 6-12.
Kids will use their imagination to create unique artwork.  They will explore different mediums with a new project each week.  Draw, sculpt, paint, construct and mix all these media together to create a range of exciting artworks.
Tuesday, October 23rd from 4:30 p.m. to 6:00 p.m. at the Albrecht-Kemper Museum of Art.  Cost:  $12 per class or $60 for a 6-class punch card (includes art supplies/material).  Call 816.233.7003 to make a reservation.
Colored Pencil Workshop
An extra session with Wanda Taylor, back by popular demand
Wednesday, October 24th 10 am to 3 pm
With 20+ years of experience in colored pencil, Wanda will teach techniques in drawing and blending color on paper.  Basic drawing tips include composition, use of complementary color, creating texture on the page, blending, and personal style.
All Levels of Experience Welcome
Cost is $87.50 (Includes lunch)
To reserve your spot, call the Albrecht-Kemper Museum of Art at 816-233-7003 Ext. 301 or sign up online.
The AKMA Cafe offers an outstanding menu that is guaranteed to please your palate!
Walk-ins are welcome, but we encourage you to reserve a spot before you come by calling (816) 233-7003
Arts & Carafes
Thursday, October 25th 5:30 pm to 7:30 pm. 
If you have always wanted to try your hand at art, but didn't think you had the ability…..this is for YOU!!! Come and enjoy appetizers and sweets, along with your favorite beverages.  Chat with your friends as you paint your very own masterpiece, all included with the cost of entry.   No previous experience necessary.  All levels of ability welcome.  All art supplies provided….and a personal masterpiece to take home!  Watch the website for the next fun night out with friends!
Mark your calendars for Arts & Carafes throughout the year (4th Thursday of the month) and then watch the website for the projects that are planned for each month.
Invite your friends and remember…….This is not a class….it's a party!  5:30 – 7:30 pm
The cost is $30/person for Members; $35/person for Non-Members; and if you bring a group of 4 or more $25/person. Cost includes all of your supplies, snacks, and artwork to take home. Please make your reservation 24 hours in advance.
Call the museum at 233-7003 Ext. 301 to reserve your spot or sign up online.